Geoffrey Stapleton
the LIFe and TiMES...
1954:
I was born in Adelaide, South Australia on December 2nd.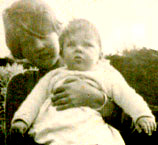 Seen here with my sister Jean, circa 1955.
---
1969:
I gave up surfing (along with all other sports) and began playing the drums. My brothers, John and Bill, chipped in to buy me the drum kit my parents weren't convinced was a good idea.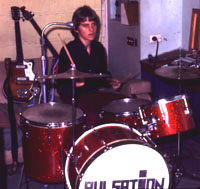 With in 6 months I was in my first band which was called "PULSATION". I painted the name of the band on to the bass drum, (and not for the last time). The singer was Drew Cooper, who went on to become a world hang gliding champion.
My first gig ever was at the now defunct Scout Hall on the corner of Regency Rd and Markham Avenue, Enfield, South Australia. I wore love beads and a psychedelic "coachman's coat" my sister Dawn brought home from England.
---
1970:
Started to become obsessed with music and helped form a band called "HEAVY RAT" with Dennis Fisher (vocals, harmonica), John Mundy (bass) and Robin Michael (guitar). We played a lot of blues. Dennis played a mean harp for a young bloke.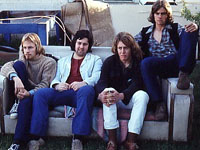 HEAVY RAT: L-R: Robin Michael, John Mundy, Dennis Fisher and Geoffrey Stapleton.
---
1971:
While still at high school, I was the drummer in "CAPTAIN THUNDER". We signed to the "Raven" label and recorded a single called "Blind Man's Greed" at Nationwide Studios in Hindley Street, Adelaide. It went to number 23 on the local charts.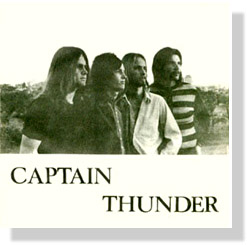 L-R . Geoffrey Stapleton - (drums), Rodney Gunner- (vocal), Robin Michael- (guitar) and Michael (Mick) Kaploon- (bass).
We played at venues such as "Headquaters", "Sgt.Peppers" and "The Scene". We also appeared on the local ABC rock show Solid Air, hosted by Chris Bailey (14 years later we would end up playing together in GANGgajang) and helped save the old bank in King William St., Adelaide from demolition by performing on the steps!
---
I also met my future wife, JUDITH LADYMAN.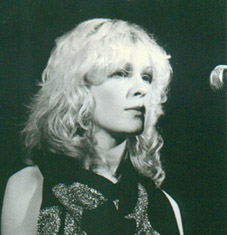 This is Jude on stage in Melbourne with her band "SHEER FUN" in 1979
In 2019, Fantastic Mess Records re-discovered the wonderful SHEER FUN and released them on vinyl.
VIEW JUDE'S ART AND STORIES HERE
---
1972 :
I helped invent clever, theatrical, progressive glam rock band, OVA. I was both drummer and glockenspeilist.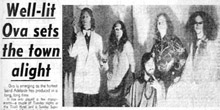 L-R Stephen Davey, Geoffrey Stapleton, Kevin Govet, Greg Webster, Edward "Ted" Skewes.
This was an article by Mike Safe, in his collum, "On The Pop Scene", Adelaide Sunday Mail. Mike only had good things to say so we called his collum Mike, "Safe On The Pop Scene".
---
1973 :
OVA shared management (Spirit-Sphere Progressive Management) with two other bands, IRON KNOB and COLD CHISEL. Of the three bands,COLD CHISEL was considered least likely to succeed. My comrade in arms for decades in GANGgajang, Mr. Robert Nelson James, was in Iron Knob. Ray Hearn was our manager.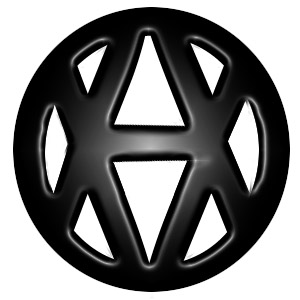 This was the OVA logo
OVA rehearsed for a year at the "Ginger Workshop" in Arthur St. Unley, South Australia. We devised two forty five minute "conceptual" shows with choreographed dance steps and long song sequences with many unusual timing signatures.
---
1974 :
OVA performs for the first time to packed houses at the Tivoli in Adelaide and then performs impressively at the Music Festival, Sunbury '75, in Victoria. OVA reluctantly puts together a show with less "theatre" and more "conventional" songs in an effort to get more work, but in the process, loses the spark and breaks up.
---
1975 :
By this time DANNY JOHNSON (vocals), Greg Webster (guitar), Grant Wills (bass) and I were all living and rehearsing together in a very nice house in the exclusive Adelaide foothills suburb of Lynton. Along with Grant Lang (keyboards), we put together a pop/funk/dance band and called it GOLD. After the "seriousness" of OVA, it was a fun release.
---
1976 : We won the 5KA Life Expo Battle of the Bands. The Adelaide Sunday Mail said in 1976, "The best way for a group to make a name for itself is to beat the rest - and that's just what GOLD did."
The win brought with it a lot of work at places like "The Arkaba" and "Countdown", but it soon became more of a job than a quest. This was the last band I played drums in so I was feeling ready for a change.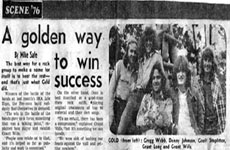 L-R Greg Webster, Danny Johnson, Geoffrey Stapleton, Grant Lang, Grant Wills
Greg Webster introduced the first "punk" music into the house. It happened to coincide with me putting the drums aside and picking up the guitar. Gold morphed into a tougher punk influenced band called Riff-Raff.
---
1977 :
We ran our own residency at the Seacliff Hotel. My sister Dawn, who was always my greatest supporter, collected the door money. She later went on to co-write L.O.V.E. on THE ALIENS "Translator" album. She is also the mum of JJ Peters from I KILLED THE PROM QUEEN and later DEEZ NUTS, and Rik Peters and Aaron Peters from THE SEARCH PARTY. We wrote more songs and talked about leaving Adelaide.
---
1978 :
DANNY JOHNSON and I moved to Melbourne where we stayed with Ash Wednesday in a Carlton flat. He was in the band, JAB, who had just signed to the "Suicide" label along with Nick Cave's Boys Next Door. Danny and I worked at the Pancake Parlour as singing waiters while we formed the power pop band THE ALIENS, and met a lady there called Kez Hood who would become our manager.
---
1979 :
ROB GROSSER (drums) and Greg Webster (lead guitar) joined the band. We began performing in Melbourne and Sydney and were courted by a number of record companies before signing to MICHAEL GUDINSKI'S Mushroom Records. ROSS GARDINERS collumn in THE HERALD 4-7-79 said it all...
l-r : Michael Gudinski, Robert Grosser, Greg Webster, Michelle Higgins (P.R. person), Danny Johnson and Geoffrey Stapleton.
Our first single was a song I'd written called 'Confrontation'. It was produced by CHARLES FISHER who went on to become Australia's most successful producer. It was a minor hit. THE ALIENS toured nationally with THE POLICE and then with UK SQUEEZE. I seem to remember we celebrated JOOLS HOLLAND'S 21st birthday at THE BONDI LIFESAVER.
---
1980 :
We released THE ALIENS album Translator, produced and engineered by whiz kid Englishman, David Tickle, and the single Follow that Girl. We toured Australia constantly and usually by broken down old car. We did TV shows such as Countdown, Nightmoves, Sounds, and Hey Hey It's Saturday.
I moved to Sydney as THE ALIENS made various line up changes. Encouraged by sculptor John Ladyman, I did my first acrylic on canvas painting. I did an underwater scene and really enjoyed it.
---
1981 :
By this time, I was the only original ALIENS member. PIERRE BARONI , who went on to become an award winning designer, photographer, graphic artist and host of the coolest radio show ever, joined the group with a swag full of great songs and we started Planet X records. We released an ALIENS single called "I Don't Care" that I sang lead vocal on, (backed with Pierre's "Over My Head") and we performed it on Countdown, introduced by JAMES REYNE. This was to be the last ALIENS gig ever
.
In make up on the Countdown set with James Reyne from Australian Crawl.
Suspecting my career in music may be over, I distracted myself by drawing cartoons.
---
1982 :
To my astonishment my first cartoons were published in PLAYBOY Magazine. This gave me the confidence to do more drawing and painting.
As a way of coming at the music from another angle, I opened KINGS LANE RECORDING STUDIO in Darlinghurst, Sydney, and bumbled my way into becoming a sound engineer. Backed by architect/musician Gary Kurzer, it ran for the next seven years and went on to record GANGgajang, PETER BLAKELY , CONCRET E BLONDE, WENDY MATTHEWS , SEAN KELLY , and many more. Brian Hall and CHRIS BETRO became partners toward the end. It was managed at various times by IAN AMOS and JEFFREY COOK.
---
1983 :
I had been bumping into CHRIS BAILEY through out my musical career but I didn't actually know him. We even found ourselves living opposite each other on New South Head Road, Double Bay in Sydney. I only got to really officially know him when, Viola Dana, his band with PETER BLAKELY and MAL GREEN , were the first group to book my brand new "KINGS LANE STUDIO" . I became their live sound mixer which I'd never done before, but I really enjoyed it. There was so much space to play with the echoes and FX, and PETER'S voice was incredible.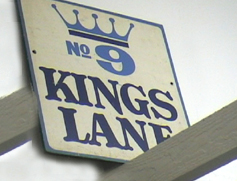 This lead to THE INVISIBLE MEN, a very cool covers band consisting of MAL GREEN (drums) who had recently departed SPLIT ENZ and CHRIS BAILEY (bass and vocal) who had recently left THE ANGELS, as well as GREG WEBSTER and I from THE ALIENS. We did our inimitable versions of songs we thought were "classics" and because of the group's credentials we scored some great gigs. They usually took the form of three-week stints at places like Cairns or Moolooloba on the Sunshine Coast. But even in an idyllic situation like that, dramas can occur...and did.
It did give me the opportunity for some sustained and uninterrupted drawing and I found myself becoming quite obsessed. I was working mainly with high-tech texta colours. I also did a number of theatre posters for "THE BIG HAND " theatre company that Jude was working with at the time.
---
1984 :
It was a busy year. I began performing with THE ROCKMELONS, playing keyboards and percussion.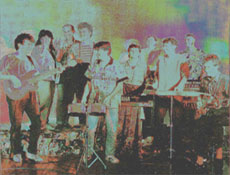 Also, PETER BLAKELY, along with PAUL ABRAHAMS and I formed a rockabilly band called RAT TAT TAT . I played the bass guitar, and a small electronic foot pedal that triggered a bass drum sound. PAUL ABRAHAMS (formerly of THE REELS), played snare and hi-hat. There was a very hip rockabilly renaissance happening in town and we had a regular Friday night gig at the "King Arthurs Court" hotel on William Street in Kings Cross, Sydney.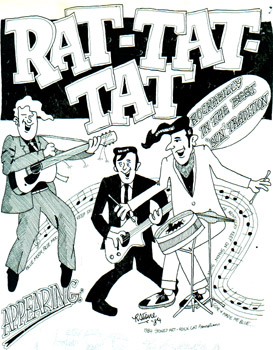 L-R Peter Blakely, Geoffrey Stapleton and Paul Abrahams (artwork - R. Stone)
Later that year, through my connection with Chris Bailey, GANGgajang booked my studio and I sat in on some songs playing keyboards. Next thing, I had joined the band. The first single "Gimme Some Loving" was very well received. Our first show in public made the 6.00pm Channel 7 news.
---
1985 :
The first GANGgajang album was released and it went gold.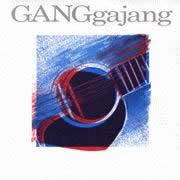 Three more singles, House of Cards, Giver of Life, Sounds of Then (This is Australia). We also worked on music for the seminal surf movie "Mad Wax". I painted more theatre posters, and signed a song publishing deal with MCA/ UNIVERSAL.
---
1986 :
We toured extensively with GANGgajang, living perhaps just a tad beyond our means. Neil Wright was our tour manager. He was a great tour manager and was present when GANGgajang was invited to Kirribilli House for drinks with the PRIME MINISTER OF AUSTRALIA - BOB HAWKE and his lovely wife, HAZEL HAWKE. We had performed at his PRIORITY ONE CONCERT , and this was his way of saying thanks.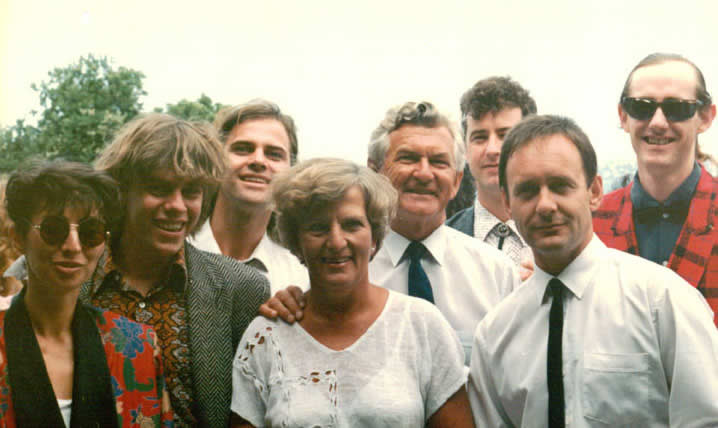 L-R: Kay Bee, Robert James, Geoffrey Stapleton, Hazel Hawke, The Right Honourable Prime Minister Of Australia Mr Bob Hawke (or Hawkey), Graham "Buzz" Bidstrup, Chris Bailey, Mark "Cal" Callaghan.
Amazingly, I also got to work with MAURICE JARRE . He was creating the soundtrack for the Mad Max movie Beyond Thunderdome and he had me playing pieces of PVC pipe didgeridoo-style. Click here for my Maurice Jarre Anecdote.
I also did the cover artwork for the GANGgajang single INITIATION.
---
1987 :
GANGgajang's second album gangAGAIN is released. I wrote and sang the first single "American Money".
The album and single covers were lifted from a series of six large musical paintings I'd recently completed (acrylic on canvas) and was encouraged along the way by our producer JOE WISSERT .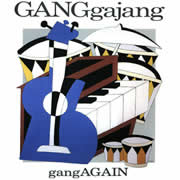 Joe was a very successful American record producer who had to his credit albums like Boz Scagg's Silk Degrees, and hits like The Turtles "Happy Together".
.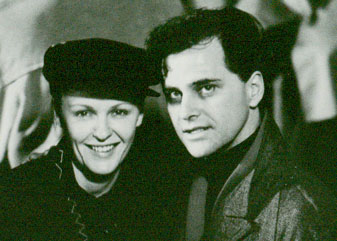 JUDE and GEOFFREY on the set of the "LUCK OF THE IRISH " film clip, the second single from the album.
I also played keyboards on a couple of tracks on Richard Clapton's album, Glory Road, with John Farriss from INXS producing.
---
1988 :
ROB JAMES and I joined forces with drummer JEFFREY "JJ" HARRIS (formerly of THE DIVNYLS) and formed JJ's WAY. We wrote and recorded an album's worth of songs but after a much anticipated signing to Virgin Records fell through, we disbanded. The band briefly re-united in 2006 to make three new songs with videos.
JJ'S WAY - "Rock
"

Buzz put together a country band called THE STETSONS that included members of GANGgajang and MENTAL AS ANYTHING with Mark Moffatt and some very hot country players. Here is the clip for the first single written and sung by Reg Mombassa called "There's A Train In My Head". It was a lot fun shooting the clip. Look out for Jude and myself (the harmonica player) at 3:28
THERE'S A TRAIN IN MY HEAD - THE STETSONS
My contribution to THE STETSON'S album was a song I'd written called "All The Cowboys". It was later used on a movie that(I think) was called "Tenterhooks". Here I am performing it live with the band on the national ABC TV show "Rock Arena".
ALL THE COWBOYS - THE STETSONS
"All The Cowboys" starts at 9:48
I also appeared as the drummer (miming Ricky Fataar's drumming) in PETER BLAKELY'S "Ain't That Peculiar" film clip. It was his first single.As I became even more obsessive with it, my painting time had begun to encroach on my music time.
---
1989 :
I had been working with the amazing singer GYAN as far back as 1982 but it was only when she won a national television talent show called "Star Search" that things really came together for her. She signed to Trafalgar Records with legendary producer, CHARLES FISHER (who had produced THE ALIENS first single). Her song,"Wait", which I had helped her put together, was a hit. I was the guitarist in the "Wait" film clip.
This is also where I met songwriter, musician, writer, arranger, conductor etc. extraordinaire, MARK O'CONNOR. He had co-written and arranged a large part of GYAN'S album. On the somewhat intense three-month promotional tour that was to follow, we shared a room and looked out for each other's sanity. Mind you, we're not sharing a room now. (Pope's Law).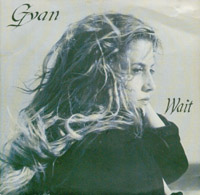 Gyan on the cover of the "Wait" single.
I was also touring with GANGgajang, and on one occasion, the two tours crossed paths.
---
1990 :
I was living in a flat on Campbell Parade at Bondi Beach when I was asked by SEAN KELLY , one of the nicest guys you could ever meet, to join his group ABSENT FRIENDS. Their record Nobody But You, produced by GARY GARY BEERS from INXS and sung by Wendy Matthews, was a big hit when I joined. My first gig with them was supporting James Brown at a club called Selinas at The Coogee Bay Hotel.
We ended up doing a huge tour of Europe as support for INXS, playing 10,000 seat stadiums through Sweden, Switzerland, Italy, France, Spain, Holland, Denmark, Scotland, Ireland and England (including four Wembley Arenas.)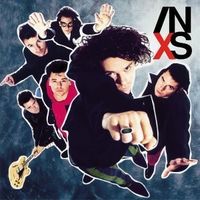 I painted on the bus, often accompanied by RONNIE FRANCOIS , the amazing bass player/vocalist/songwriter who had done a lot of art in his younger days. He took it personally if the driver swerved and made his pencil hand slip. I completed about 30 paintings and drawings over the seven weeks.
---
1991 :
Back in Australia, we recorded the Absent Friends Live CD at the Kardomah Cafe in Kings Cross, Sydney.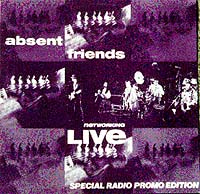 The live Absent Friends album.
SEAN KELLY and I were both living in Kings Cross by this time and we began writing songs together and formed the band THE DUKES. Some mornings we would meet up at "Joe's Cafe" on Victoria Street where we would often be served by Caroline Byrne, the poor girl who me t with such a terrible fate.
I reviewed the Guggenheim exhibition at the A.G.N.S.W. for Good Morning Australia with James Valentine.
WENDY MATTHEWS ' first solo album Emigré was a hit. I co-wrote a song for it with ROB JAMES called "SQUARE MOON OVER MANHATTAN" inspired by a painting I had recently completed which KEVIN GOVET had dubbed..well... "SQUARE MOON OVER MANHATTAN."
---
1992 :
THE DUKES signed to Sony, and released the singles, GONNA GET HIGH , FAITH , NOTHING CAN BRING ME DOWN . We also released The DUKES - HARBOUR CITY album that I co-wrote and co-produced with SEAN KELLY . I did a painting for each song for the album booklet and the artwork for all five cd covers.
With the help and support from Neil Wright, I put together my First Solo Exhibition at The Pod gallery at Taylor Square in Sydney. I sold 25 paintings.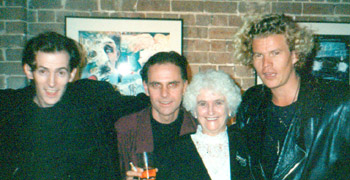 At my first exhibition L- R, Sean Kelly, Geoffrey Stapleton, Marjorie Stapleton (artist's mother), Peter Blakely.
---
1993 :
Sean and I produced three songs with The Dukes for the Yahoo Serious movie "Reckless Kelly". Yahoo and Lulu Serious were such inspired and inspiring people to work with.

Here is a Nolan-esque painting I did of Yahoo Serious as Kelly.
I had my Second Solo Exhibition at The Pod gallery in Sydney. Sold 28 paintings.
The bidding for the 2000 Olympics obsessed Sydney for a time. The Dukes got to perform our song "Faith" at Circular Quay to 250,000 people, minutes before Sydney was announced as the host city for the 2000 Olympic Games. I can still remember the intake of breath, en mass, as it was announced "the winner is Syd-er-ny! And then the roar of the crowd as it sunk in.
David Jarrett, who was boss of the South Australian Music Industry Association at the time, had been flying me back to Adelaide to give a series of lectures on "surviving in the music business". He talked me into having my Third Solo Exhibition at the Carclew Ballroom in Adelaide. I sold 24 paintings.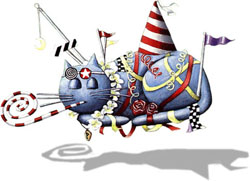 The "Blue Cat" featured in the Carclew Exhibition paintings
---
1994 :
Apart from painting, I spent the early part of the year setting up a song-writing studio in an apartment block called "Buena Vista" on Bondi Road, Bondi Beach with Sean , writing and recording songs.
Just before the birth of our daughter, Sienna, I had my Fourth Solo Exhibition. It was a small one this time, at the Hard Lines Gallery in Adelaide. I sold 9 of the 12 paintings I exhibited.
I also began to tour again with GANGgajang.
---
1995 :
In a Spinal Tap-ian twist, GANGgajang had become popular in Brazil and we did our first national tour there, pulling 7,000 people to our first concert at the "Metropolitan" in Rio de Janeiro.
I also discovered a little clay ornament I called the "Alligator Man" in the northern Brazilian city of Recife. I painted continuously

throughout the tour. A lot of the work would find it's way into the Inside Alligator Man" exhibition of 1998.
Wrote a film script called "Feedback" with writer/singer Peter Millynn.
---
1996 :
After the success of the first tour (and this time being a little more prepared), GANGgajang completed a second national tour of Brazil by way Buenos Aires. Playing to such big appreciative audiences was a real thrill and our Brazilian friends knew how to party.
As with the previous year's tour, I brought a tabletop easel, canvas and acrylics and painted all the way. Most of what was to become my "Inside Alligator Man"exhibition was painted on the road in Brazil. (Chris Bailey always said the band should get a cut!)
---
1997 :
There was some touring with GANGgajang. When I wasn't touring (or playing with Sienna), I painted ceaselessly in the front room of our small flat on New Beach Road, Darling Point, (overlooking the most beautiful harbour in the world, Sydney Harbour) for the upcoming exhibition.
I had written some songs with my nephew Kieron Gardiner and we decided to form a multi-media band called THE search PARTY with Cye Wood on violin.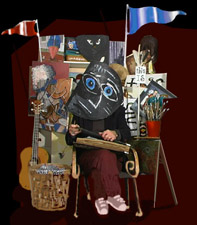 Masque relaxing at home
For THE search PARTY, I adopted the pseudonym of Masque, and wore a large mask.
---
1998 :
In March, I had my Fifth Solo Exhibition, "INSIDE ALLIGATOR MAN " . It was at the Mary Place Gallery in Paddington, Sydney and was basically set up and promoted by my wife JUDITH . I sold 42 paintings.
I also body-painted singer/songwriter DIANA AH NAID for her film clip for the single SEE THROUGH .
THE Search PARTY signs to Festival Records, and is labelled "cyber/garage". MARK O'CONNOR agreed to get on board and provided the serious musical finesse and muscle the project required.
By now Rik Peters, another nephew, had joined the project as the deal included the facilities to create our own videos and cd-roms, which was Rik's speciality. His brother Aaron Peters joined the group a little later.
---
1999 :
Rik Peters and I spent months compiling and animating frame by frame THE search PARTY cd-rom, "This Is The Drug" which was finally released.
.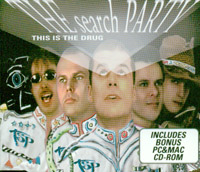 "THE search PARTY" CD-ROM featuring: L-R: Masque, Aaron Peters, Mark O'Connor, Kieron Gardiner, Rik Peters and Cye Wood.
We mixed our album with Jeremy Allom at the old EMI studio at 301 Castlereagh St. Sydney and shot a video for the next single, "Aloha Baby". Before we had time to edit the clip, we found out that a Mr. Murdoch had bought our record company "Festival" and was merging it with "Mushroom". In the process we were cut adrift.
I was selling quite a few paintings privately and at the end of the year we moved back to Adelaide for family reasons
GANGgajang and families saw the new millennium in at Lorne in Victoria playing at the Quicksilver New Years Eve party...and the world didn't end.
---
2000 :
Thanks to musician, painter, sculpture PAUL STAPLETON with some help from KIERON, we set up a painting/music studio in Adelaide.
GANGgajang toured nationally. We began to write and record songs for a new album. We performed at the Sydney Opera House for Corroboree 2000.
Adelaide band Timothy (later to become Fear Of Flying), asked me to co-produce their cd rom Joe Jerry. It went to number one locally (SA Real Charts).
We released a new GANGgajang single called Nomadsland in Perth to test the water. It went to number six. Click here to read the Nomadsland anecdote.
---
2001 :
GANGgajang toured Brazil for the third time, but this time with the legendary Yothu Yindi, Spy Spy (who are very popular in Brazil) and The Chevelles. We performed to 20,000 people on Copacabana beach in Rio de Janeiro.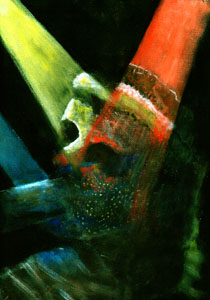 "Nicky Yunupingu, Live in Florianopolis, Brazil 2001" (acrylic on canvas)
I began working on some large paintings as part of an upcoming exhibition to be called Oceans and Deserts, which includes a series of tables designed and shaped by musician/artist/sculptor PAUL STAPLETON
I was working on the table called "99 Fish" when I heard on the radio that a plane had flown into one of the Twin Towers of the World Trade Center in New York. I got home and turned the TV only to see the second tower come down. Like everyone else around the world, I couldn't believe what I was seeing.
There was more work done on the GANGgajang album, and I developed the www.GANGgajang.com website.
---
2002 :
I created the CD booklet and cover artwork for the OCEANS AND DESERTS album that was released toward the end of the year.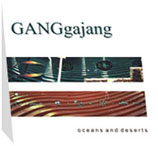 The artwork and promotional paraphernalia was created using images from the Oceans And Deserts series.
GANGgajang toured extensively.
---
2003 :
Three more tables (a total of nine) were added to the Oceans and Deserts collection, along with three more large paintings.
Inspired by the Flash animation of one of my paintings by multi-media man/musician/songwriter/chef, Alistair "Al" Mitchell, I began working with filmmaking and editing software.
I then spent three months creating the fully animated "Anodyne Dream" film clip for GANGgajang utilizing about 90 images from my paintings.
Sporadic touring with GANGgajang including the national television broadcast of a live performance in front Parliament house in Canberra on the "Sunrise" show. Australia had recently gone to war with Iraq and as a protest, during the performance of our song "Trust", we revealed t-shirts we'd had made up, each reading "PEACE" in a different language.
---
2004 :
When Paul Stapleton, Mark "Cal" Callaghan and I were talking on the way back from Leigh Creek in South Australia where we'd shot footage for the "Nomadsland" clip...
we discussed an idea for another clip. It was to create a continuous time-lapse film of a painting that animated to the lyric.To that end, a large portion of the year was spent creating the film clip for GANGgajang's song "TRUST", after filming the band individually against a green screen.
Performed with GANGgajang and completed more paintings for the "Oceans and Deserts" exhibition.
---
2005:
Apart from performing shows with GANGgajang (which surreally included playing to 18,000 Chinese visitors at the Olympic Dome, Sydney, whilst staying in a beautiful beach apartment for 3 weeks at Coogee beach in Sydney with Jude and Sienna), most of the year was spent creating a film clip for (what's now become) GANGgajang's iconic anthem "Sounds Of Then" (This Is Australia)".
I'd filmed each of the band members against a (creased!) green screen in a small change room backstage at the aforementioned Olympic Dome gig. (I added things like the drums later!)
The latter part of the year was spent editing and assembling "Brazil '95", a fifty minute documentary on GANGgajang's first tour of Brazil for the GANGgajang DVD I've agreed to produce, which will include all the clips, anecdotes, TV specials, documentaries and so on from the last 22 years. (Gulp!)
---
2006:
After 13 months of sorting, assembling, filming, editing, animating, acting, designing and authoring, I finally finished putting the last twenty two years of GANGgajang on to a Double DVD - "The Complete GANGgajang" .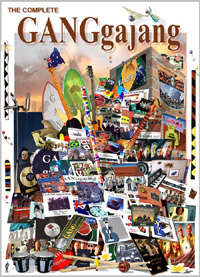 Arriving (a bit self-consciously) at the Star City Casino on Sydney Harbour in a limousine, GANGgajang performed live to 1.54 million people on channel 7's television spectacular, "50 Years Of Television".
GANGgajang recorded "Surfin' Round The World" at Freshwater Beach (first surfing beach in Australia) for David Minear, Mick Wordley and Kerryn Tolhurst's Australian surf album/dvd "Delightful Rain" which has screened a number of times on the A.B.C.
Completed another 12 paintings for the "Oceans and Deserts" exhibition and wrote a number of songs including "Give The People What They Want" which was recorded by Robert James, JJ Harris with Frank "K-Meister" Kerestedjian and Alistair "Al" Mitchel as JJ's WAY.
---
2007:
With Buzz and fellow GANGgajangers, I began performing with National Living Treasure, Mr. Jimmy Little, doing very worthwhile shows for people like The Fred Hollows Foundation and Diabetes Australia.
It was a year of contrasts. We went from giving workshops to indigenous children in the remote western desert community of Kintore to playing in the great hall of Parliament House in Canberra.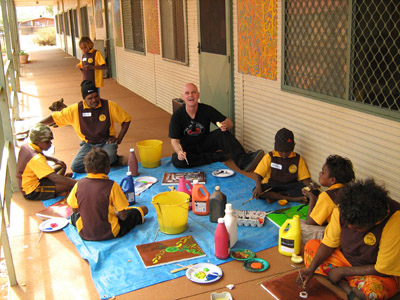 Me, AKA "Casper The Friendly Ghost" painting with the inspiring western desert kids.
With DANNY JOHNSON, wrote and recorded an "in-house" song for the Australian Labor Party called "The Light On The Hill" which was, as JULIA GILLARD noted, beautifully sung by Kat Kraus.
Continued to work hard on the "OCEANS AND DESERTS" exhibition, completing six new paintings and one table (with Paul Stapleton)
For me it was also the year of YouTube and broadband. The first animated clip I posted was a cartoon I made called "THE DRUM LESSON".
By the year's end I'd made sixteen videos all of which can be can be viewed on my Youtube channel, "levetatingbluecat".
---
2008 :
Although GANGgajang only did a handful of gigs (Chris and Buzz being kept busy by the reformation of their other band, THE ANGELS), we did have the honour of performing a hot reggae version of "Royal Telephone" with Mr. JIMMY LITTLE at The Domain in Sydney for the Pope's visit to Australia for World Youth Day.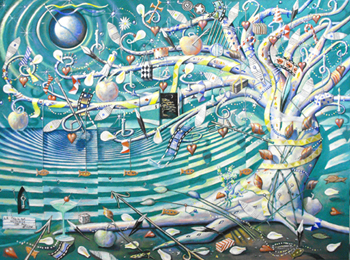 "Tree Of Love" from the long time coming "Oceans and Deserts" exhibition.
Completed another seven paintings for the "OCEANS AND DESERTS" exhibition (see above), did a number of private painting commissions including two tables (with Paul Stapleton) for Helena Stone.
Finished film clips for THE search PARTY, GReF, and JJ's WAY and a couple of comedy pieces which can be viewed here. Also gave Aaron Peters a hand putting the FAQS animation series together.
Working on a flim script with long time collaborator Danny Johnson called "WATER".
---
2009 :
GANGgajang played various shows around Australia including a musical workshop weekend in Rockhampton organised by Michael Walker. It inspired me to begin work on a painting called "Sue Smith Shows Mark Opitz and Geoffrey Stapleton the Rockhampton Collection."
With Danny Johnson, completed the screenplay for a movie called "WATER"
.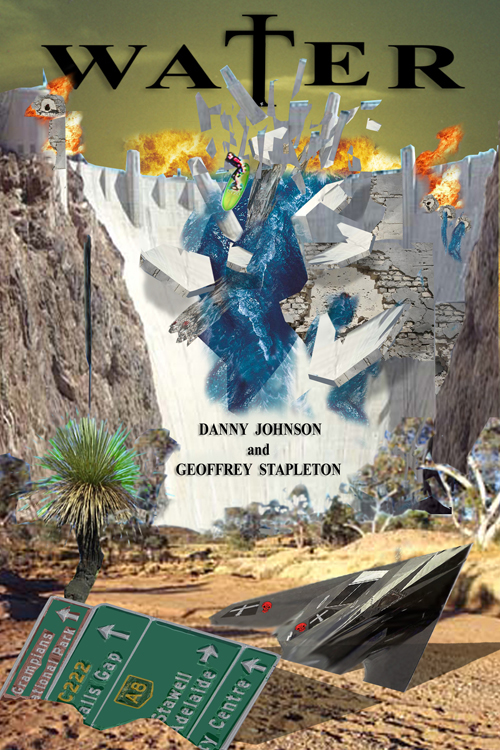 Did the illustrations for a Robert James book of "ACRONYMS".
Did a number of paintings on commission including one for Sue and Paul Fagan called "A Brief (And Rather Subjective) History Of Music"

Watch the creation of the painting in time-lapse.
Along with Danny Johnson (vocals) from "The Aliens", Paul Stapleton (bass) and Tom "Tommy G" Gemmell (drums), formed the rock band "ANDIFSOWHY" writing and recording eight songs and creating three videos.
ANDIFSOWHY
Running Out Of Gasoline
---
2010 :
Played shows around Australia with GANGgajang.
Made a number of film clips including Cry Logic's remix of GANGgajang's classic, "Sounds Of Then (This Is Australia)"
Sold my painting, "Sue Smith Shows Mark Opitz and Geoffrey Stapleton the Rockhampton Collection" to the Rockhampton Gallery.
Finished the final "Oceans And Deserts" painting, where the ocean meets the desert. It's called "Life And Death" and ends the era of my beloved studio in Balfour St. Nailsworth S.A.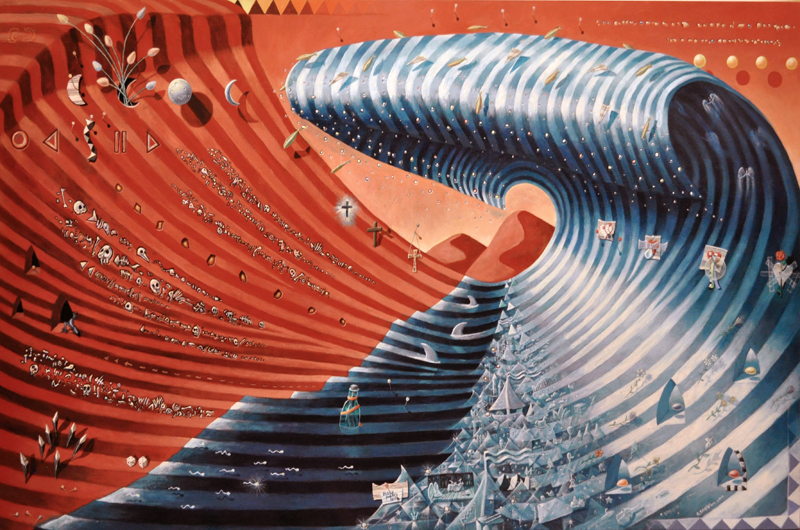 ---
2011 :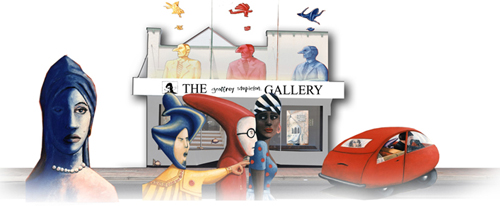 Jude and I opened "The Geoffrey Stapleton Gallery" at 95A Prospect Rd , S.A. and the first exhibition was "Oceans" which was opened by Mark "Cal" Callaghan. GANGgajang performed with special guest, Sienna Keera on percussion.
Exhibitions that followed included "DESERTS ", "Could Truth Be My Gimmick", and our first Group Show "SEEING MUSIC".
The opening of THE geoffrey stapleton GALLERY - 1st July 2011
GANGgajang opened the ABC's Australia Day Concert 2011 which was broadcast live around Australia and into Asia from the front of Parliament House in Canberra where there was a live audience of 35,000. JACK THOMPSON introduced the band after narrating the lyrics to our "Sounds Of Then (This Is Australia)"
The GANG also did a number of shows throughout the year.
---
2012 :
This was a big year for The Gallery. Apart from showing my own work we held ten exhibitions, including three group shows, "Seeing Cycles", "Seeing Flowers" and " Seeing Wine" with an ever growing contigent of artists.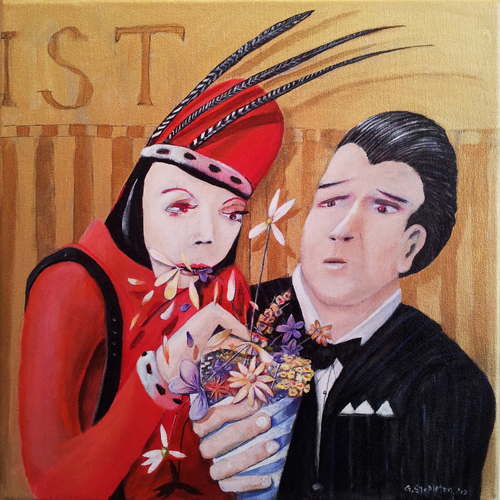 GANGgajang performed about twenty-five shows around Australia, mainly in our most popular states, Queensland, Western Australia and News South Wales. (Ironically, although four of the five members of GANGgajang came from Adelaide, the band has never been very popular there.
---
2013 :
My dear fiend Chris Bailey died. GANGgajang performed at the benefit for Chris' wife Josie and his son, Ollie at the Thebarton Theatre in Adelaide (Corey Stewart played bass with GANGgajang), and the line up included The Angels, Jimmy Barnes and James Reyne amongst others.
At the Gallery, apart from showing my own work, we held six exhibitions, two of which were group shows, "DANCE" and "THIS IS AUSTRALIA", which coincided with the "Tour Down Under" which kicked off in Prospect, almost in front of the Gallery. Below is a timelapse video of my contribution to the "Dance" exhibition.
GANgajang performed at the Woodord folk festival to great acclaim and on the way there, dropped in on the "Wake Up" breakfast show on Channel 10. Rebecca Johnson was our guest on bass.
---
2014 :
The Geoffrey Stapleton Gallery relocated to the Wassail Wine Bar after our final exhibition at the old premises which was taken over by Harris Real Estate, who were kind enough to let us continue using their walls and windows to display our paintings. Our last exhibition at 95b Prospect Rd Prospect was "Celebration"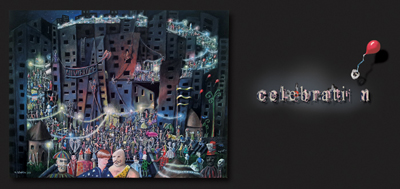 Last year I put a little acoustic band together called "The Prospectors" playing our favourite songs ever. That continued through out the year, performing at the Wassail Winebar every second Sunday with people literally "Dancing In The Street".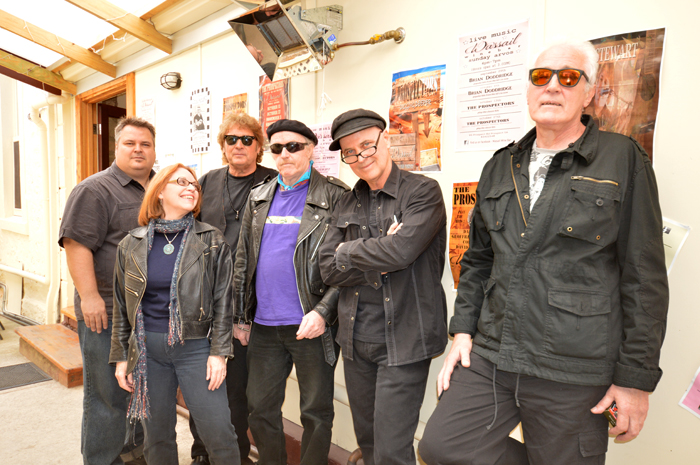 The Prospectors, left to right: Corey Stewart - vocal, guitar, Clare Thackray - pecussion, David Washington - vocal, Billy Thackray - percussion, Geoffrey Stapleton - vocal, guitar, harmonica, slide, Danny Johnson - vocal
Here is a video of The Prospectors performing "Like A Rolling Stone" at the "Twilight Concerts In The Park" at the Prospect Memorial Gardens , at Prospect South Australia in February 2014.
GANGgajang did a couple of short tours including a very successful series of shows with a line-up of other bands and performers who had had big hits, called "Pure Gold". Before Xmas we did a run of gigs with "Spy v Spy" and Robert James' son Riley's band, "Cupcake Conspiracy".
---
2015 :
GANGgajang went into Jim Blackfoot's studio at St Peters in Sydney with engineer extraordinaire, DAVE NICHOLAS and recorded and completed two new songs. NOT WAITING AROUND was written by CAL and ROBBIE. BUZZ and I wrote CIRCLES IN THE SAND. In June, we flew to Uluru to shoot a film clip for CIRCLES IN THE SAND, the first band to be given permission from the traditional owners to shoot at the rock.
Also sold my painting "The Hatred Of The People With Ludicrous Hats For The People With Slightly Different But Equally Ludicrous Hats"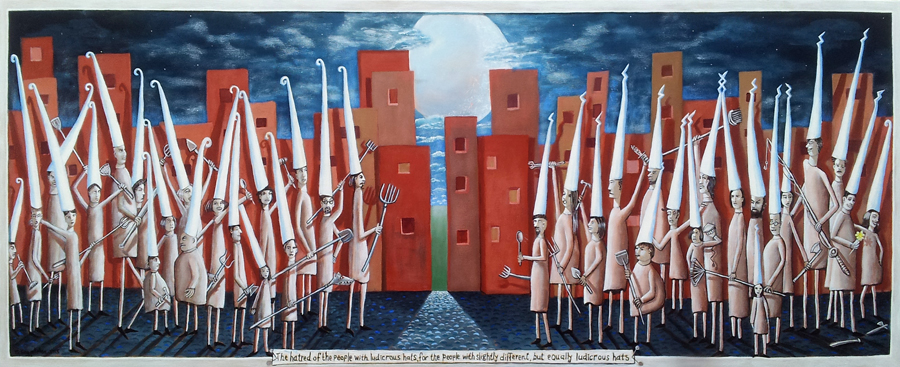 ---
2016 :
GANGgajang "REMASTERED" was released. It was our first album remastered with two new tracks, 'Circles In The Sand" and "Not Waiting Around". For the album artwork I used images from my "Desert" series of paintings and for extra promo and tour posters we used stills from Uluru and shots from a photo shoot we did with the brilliant photographer Wendy McDougal in Kings Cross.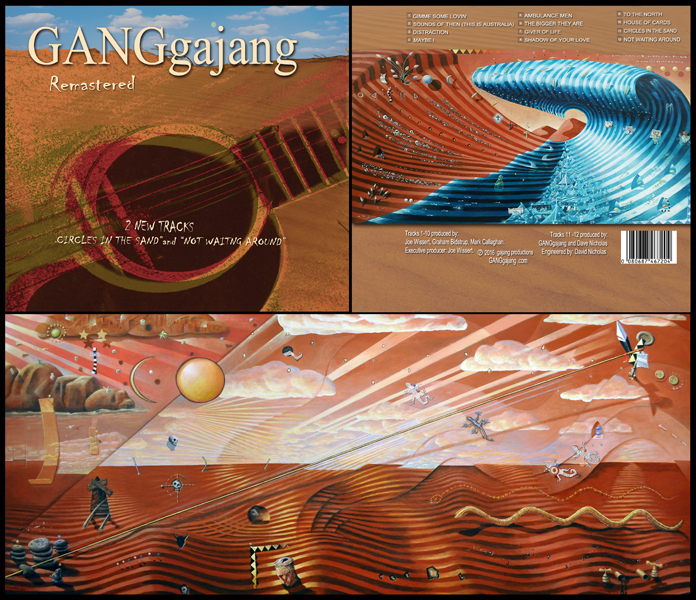 It was launched at The Basement in Sydney. Our support act was the incredibly talented Mark O'Connor and he was joined on stage by my daughter Sienna on drums for his moving protest song "Nauru (What If It Were You)"
We toured extensively around the country for most of the year promoting the album.
I also formed a rock band with Corey Stewart called "THE SELF FULFILLING PROPHESY MACHINE" and we released two videos. "Software Baby" and "Democracy" .
"Software Baby" - THE SELF FULLFILLING PROPHESY MACHINE"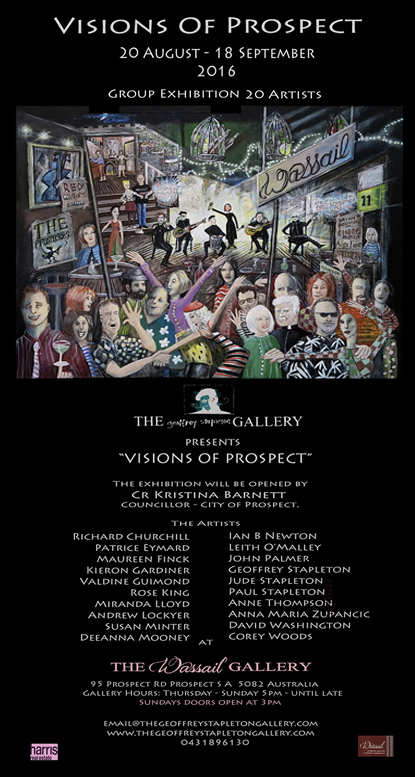 Jude and I also held a group exhibition called "VISIONS OF PROSPECT" at WASSAIL WINE BAR GALLERY.
---
2017:
Formed a music production team with Corey Stewart, "Stapleton Stewart Productions" or "S.S.P." working out of KARISMA RECORDING STUDIO in Collinswood South Australia.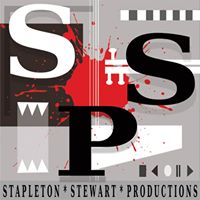 Worked on a new studio album for Ian Coates.(Ian owns Karisma Recording Studio.)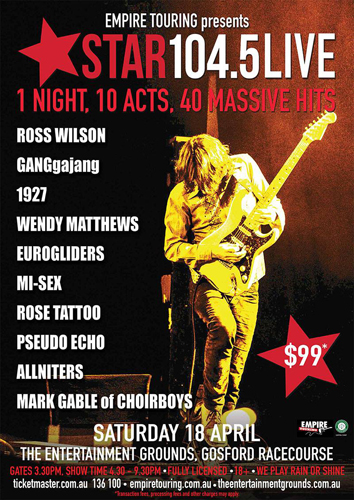 Toured with GANGgajang mainly playing big shows like "A Day On The Green" or "Pure Gold" etc. with other bands from a certain era who have had hits. Got to meet, and have a drink or two with, quite a few famous people from famous bands with famous songs. Also a chance to catch up with old friends like Wendy Matthews and Sean Kelly. Very enjoyable shows and each band only does three or four songs.
Saw ERIC AND THE YES MEN at Wassail Wine Bar and the show stopper was Eric Stevenson standing on a chair singing "My Way". Inspired, I wrote a song and made a film clip called "Standing On A Chair Singing My Way". Fittingly we shot the clip at Wassail.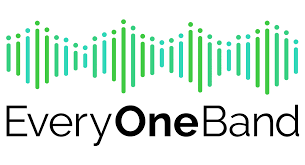 .Worked on Mark "Cal" Callaghan's brilliant EVERY ONE BAND project.
---
2018: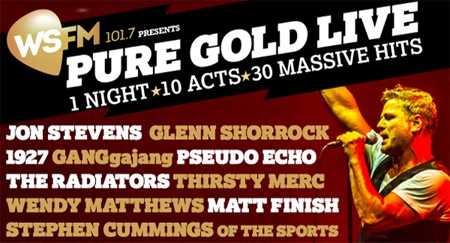 GANGgajang only performed a half a dozen live shows this year, mainly "Greatest Hits" festivals but they were a lot of fun, especially The Emmore Theatre.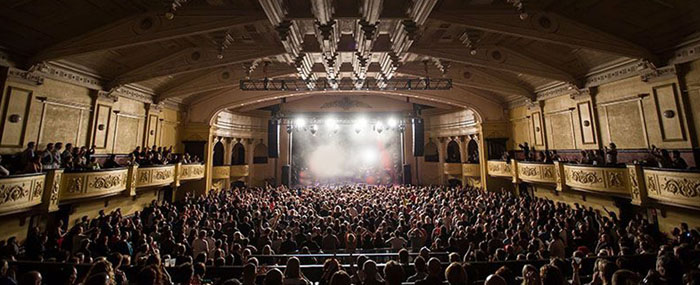 My very good mate Corey Stewart and I performed at the Thebarton Theatre's induction into the Adelaide Hall Of Fame. The place was packed (around 2,000 people) and with just two acoustic guitars and two voices, we went over rather well. I sang GANGgajang's "Sounds Of Then (This Is Australia)" and Corey sang another Mark " Cal" Callaghan song, "I will Stand By You" and both Julia Zemira and Jimmy Barnes thought it was a good idea as they had both contributed to Cal's "EveryOne Band" version for the charitity Support Act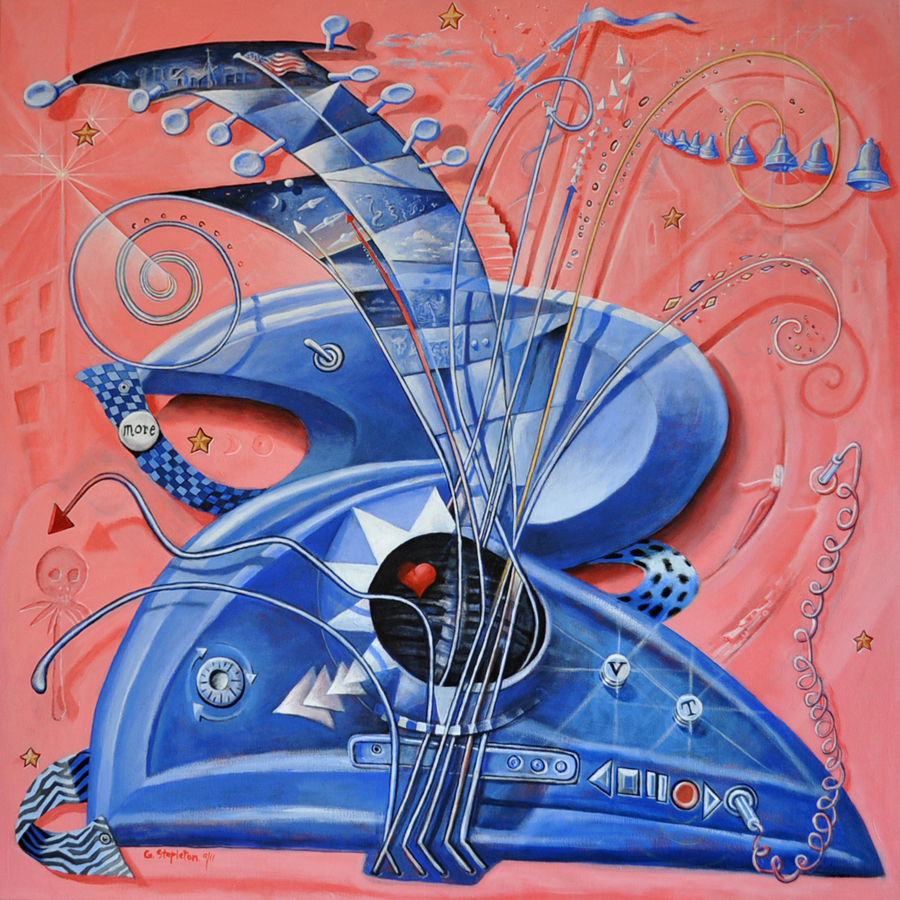 Lead Guitar
Jacqueline Mitchell from ART LOGIC is my agent for hiring out my paintings to offices and such for up to three months and we did very well this year.
Also completed seven new painting, most of them quite large (over a meter). See The Paintings For Sale page.
I also began working on an idea for a musical, suggested by guitarist extraordinaire, Charli Holoubek. I called it "The Night Paris Died", and began writing songs with Ian Coats, Danny Johnson and Charli.
---
2019:
GANGgajang toured over summer, up and down the east coast of Australia promoting the new release of "SURFING ROUND THE WORLD". I was tasked with making a film clip for it at the last minute, which I did with people literally phoning in their parts. I then stitched it together. The seminal surf movie, Mad Wax, for wich GANGgajang had done the music, was our support act so there were screens at every show.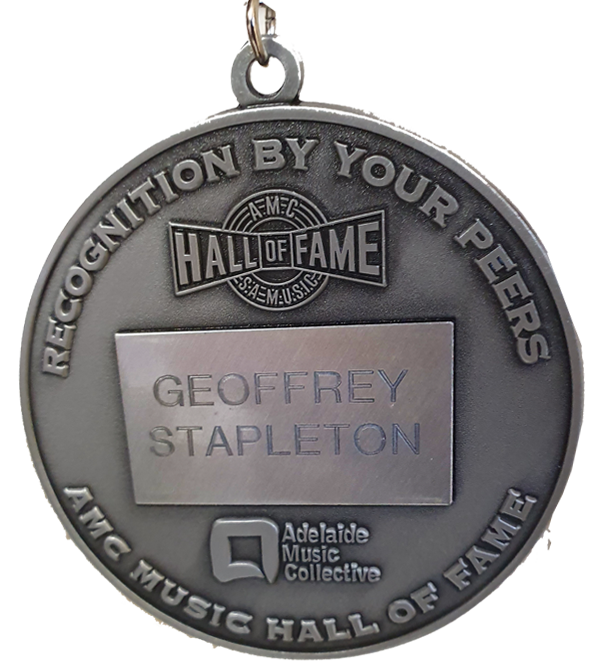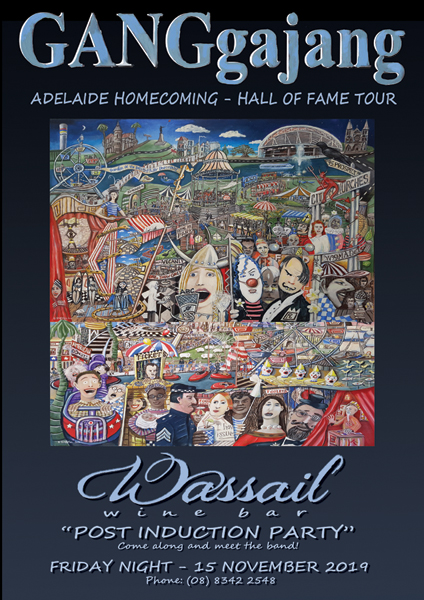 In November, at the Prospect Town Hall in Adelaide, GANGgajang were Inducted into the AMC South Australian Music "HALL OF FAME". Mercifully it was a sell out and Buzz, Rob and I made speeches and were given medallions. After the show, everyone came over the road to WASSAIL WINE BAR / THE geoffrey stapleton GALLERY and the festivities continued till late.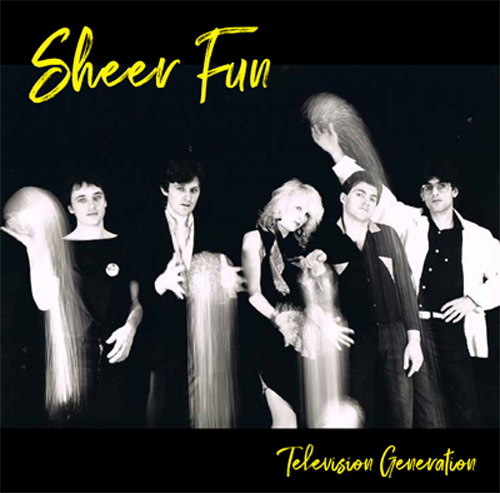 Fantastic Mess Records release Sheer Fun's "Television Generation", 40 years after it was recorded. It was written by Jude Stapleton and produced by Geoffrey Stapleton in 1980. Look out for Duffo in the film clip.
---
2020: Jude returned home from London after having spent six weeks with our beautiful daughter Sienna as she gave birth to our dear little grandson, Oliver Geoffrey Keywood. Oliver's father, George Keywood is an actor and was in the Bafta award winning TV show "People Just Do Nothing". At this point, nobody knew that only weeks away , a disease known as Covid-19 would sweep the globe, a pandemic so deadly killing milloins. It changed everything for every one.